POSTAGE &PACKAGING IS INCLUDED
email g_lansard(at)yahoo.co.uk for order enquiries
Also Distributed by
Volcanic Tongue (UK)
Norman Records (UK)
Boa Melody Bar (UK)
Alt Vinyl (UK)
Tomentosa (USA)
CDs y LPs importados (Mexico)
Ikuisuus (Finland)
:::::::::::::::::::::::::::::::::::::::::::::::::::::::::::::::::::::::::::::::::::::
upcoming - BOLIDE 'Just Add Heat'
RAYON 035 - BAD ORB 3" CDR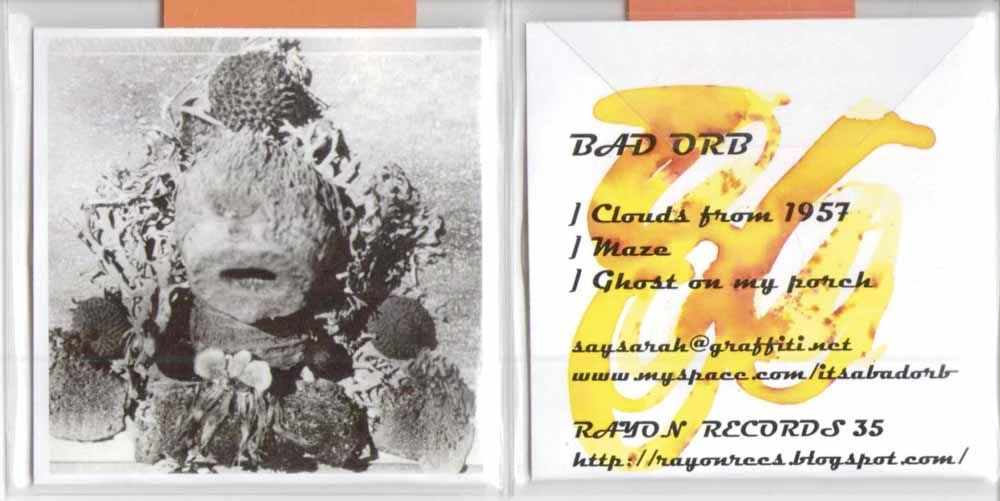 All the way from the well know Spa town in Germany, BAD ORB is the solo experimentation of Sarah Albury ((Jettatura, Polly Shang Kuan Band)). This radiant release invites us on board a pursuit into the crags of the earth; the use of persistent loops of alluring unidentifiable vocals, accompanying Albury's own vocals, creates a sublime and disorientating spheroid energy. All the length of the 3 pieces on this release there are tactile rhythmic loops that exchange organically. Transporting!
Cover photography by Veronica Ibarra: http://veronicaibarra.com/
Each copy hand painted by Belied Gunaiko
RAYON 034 - Part Wild Horses Mane On Both Sides 'Sixth Samovar', CD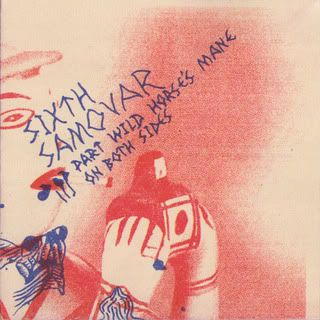 This duo of drums and flute played starkly in a cinema in Bristol. Unaided by electricity due to a dramatic power-cut that swept across Bristol on 12th June 2010. Determined to play in a darkened porch hole, Nichols and Jones performed a deluge rite with carbonised instinct and with particular attention paid to the poetry of footsteps, words and interruptions. This recording engraves an experience of unadorned heed and progresses. Pro-pressed CD in riso-printed fold-out paper sleeve.
Part Wild Horses Mane On Both Sides 'Sixth Samovar' sample a
by
Rayon Recs
Part Wild Horses Mane On Both Sides 'Sixth Samovar' sample b
by
Rayon Recs
RAYON 035 - HULL HOLE compilation
Long awaited collection of mangled, zoned out tracks giving a snapshot of the noise/weirdo demography of Hull, East Riding. Contributions by Yol, Very Rich Lexicon, Automated Noise Ensemble, Elektrodiesel and Counting to Zero
Kaleidoscope CDr in Oversize xerox black-on-black foldout sleeve
RAYON 027 Blue Yodel / Belied Gunaiko split 3"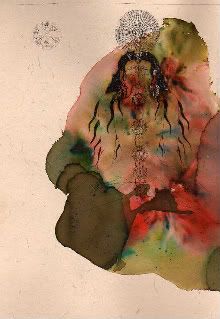 Blue Yodel is FKennedy, one vital third of Hunter Gracchus; pierced squeezebox singing, beaten metal and animal laryngeal expulsions. This is a live recording taken from Kennedy's performance at the opening of the Robert Mapplethorpe exhibition, Graves Gallery , Sheffield.
Belied Gunaiko; moniker for debut solo outing by flautist KJJones of PWHMOBS; a mantra painted on a plain of pure pipe feedback and extended perforations.
gold leaf discs in Hand inked xerox- limited to 50
belied gunaiko
by
Rayon Recs
01 blue yodel b2
by
Rayon Recs
***COMING SOON***
David Birchall solo guitar CD
Frank Perry CD